Grishneshwar Temple in Aurangabad, Maharashtra is one of the 12 Jyotirlingas of Lord Shiva. Hence, performing Puja at Grishneshwar Temple is a sacred and prosperous ritual.
The Grishneshwar temple is 3000 years old. The Lord resides here with his spouse, Goddess Parvati. She is famously called Mata Grishneshwari here.
Puja At Grishneshwar Temple
Performing puja at Grishneswar Temple is significant. As pilgrims think that by visiting this temple, they can reap the blessings of all 12 Jyotirlingas. The Grishneshwar temple is a perfect example of pre-historic construction with magnificent sculptures.
YatraDham.Org offers online Puja booking at Grishneshwar temple for various kinds of Shiva Puja like:
Have a Peek at this video of Puja at Grishneshwar Temple:
Panchamrut Abhishek Puja
You can worship Lord Shiva with any kind of puja or ritual. However, performing a Panchamrut Abhishek Puja at Grishneshwar Temple is a special one.

Shivji himself has recommended performing Panchamrut Abhishek on Shiva Lingam. If you are planning to perform this ritual, you have to observe a strict fast throughout the day.

However, you can consume milk and fruits during the day, if necessary. Panchamrut Abhishek Puja takes about 40-45 minutes to complete.

Rudrabhishek Puja

Rudrabhishek puja pleases Shivji very much and gives the best results. This Shiv Puja has also been praised by way of hymns and mantras.
You can do Rudrabhishekam Puja at home or any Shiv Mandir by the Brahmin. It is also possible to do Rudrabhishek without the host's presence with name resolution.
Hence, you can book this puja online from YatraDham.Org. It takes about 1-1.30 hours to finish this ritual.
We make sure to book an experienced pandit ji who can help you finish this puja with perfection and devotion.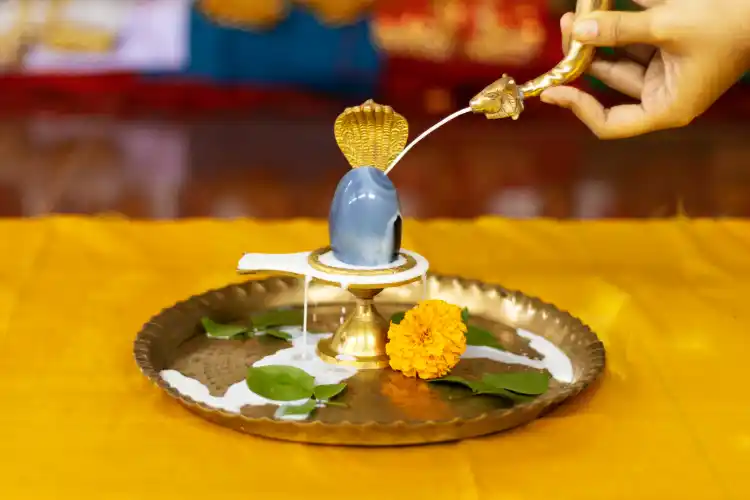 Shravan Month All Abhishek Puja
Abhishek Pooja is one of the Main puja of Lord Shiva. One of the Abhishek Puja done especially in Shravan month is "Shravan Month All Monday Abhishek Puja".
On every Monday of the Shravan Month, you can perform this puja. It is possible to perform this Abhishek Puja at the Shiva Temple on behalf of the Devotee.
This short Puja takes 20-25 minutes to complete.
Laghu Rudrabhishek With Brahmbhojan
Laghu Rudrabhishekam with Brahmbhojan Puja has many benefits. It fights diseases, leads to fertility, and sharpened intelligence.
In the Laghu Rudrabhishek Prayog, Pandit ji recites the Yajurveda Ch.16, meaning the 5th chapter of Rudri or "Namaste" chapter over and over again 121 times. After completing Puja Bhojan's offer to all 11 Brahmin.
We book Laghu Rudrabhishek Puja with experienced Pandit Ji at Grisneshwar Temple. Note that it takes about 2.30 hours to finish.
Laghu Rudrabhishek
Laghurudrabhishek Puja is the same as the Laghurudrabhishek Puja with Brahmbhojan. But this one is without the Brahmbhojan.
The description of Lord Sri Rudra's Rudrashtadhyayi is in Yajurveda Samhita itself and every mantra of Rudri. It is also described in various ancient texts.
This Puja takes about 1.30 hours to finish.
Abhishek Puja
Abhishek Puja is one of the favorite puja of Lord Shiva. However, devotees can offer this puja at all Jyotirlinga.
Here are the quick steps for Abhishek Puja:
Start with Purushsukta
Avahan
Aasan
Padya
Arghya
Snan (Jalabhishek)
Aarti is done while performing Abhishek
Abhishek Puja takes about 20-25 minutes to complete.
Conclusion
Grishneshwar Temple Pooja Booking and Pandit Ji Booking are available on YatraDham.Org. You can do Grishneshwar Temple Abhishek Pooja Booking form here.
You can find updated Grishneshwar Temple Pooja Timing on our blog. Grishneshwar Temple Darshan Booking is not available as of now.