Statue of Unity Information:
Statue of Unity Booking, Cost, how to reach, Statue of Unity height and Timing, location, online ticket booking.
The Statue Of Unity is located in the Narmada district of Gujarat. The Statue Of Unity is one of the world's tallest statues of the world about 600 feet. The height is 182m.  Statue Of Unity was designed as a memorial of Sardar Vallabh Patel.
Around the Sardar Sarovar dam, there are other great places to visit for a tourist like the Vindhyachal hill ranges.   On the mighty Narmada River, the statue of unity is situated. It is 3.5 km away from Kevadia town.
A major attraction for tourists is the spot crocodiles at the Sardar Sarovar. The state government has recently opened a new luxurious nature retreat, Tent City Narmada. It is just 10 minutes away from the monument.
At Panchmuli lake, the resort is surrounded by meadows, water cascades, thick forest areas, and abundant wildlife.
Statue of Unity (Kevadiya) Railway Station Train Time Table:-
Statue of Unity (Kevadiya) Railway Station Train Time Table Link Click Here
Statue of Unity Entry Fees
Rs 200 For Child ( 3 to 15 years ) Observation Deck view
Rs 350 For Adult Observation Deck view
Rs 60 Child ( 3 to 15 years ) Valley of Flower
Rs 120 For Adult Valley of Flower
Rs 30 per person Bus Charges
Statue OF Unity Valley Of Flowers

Poicha

In poicha, there are the most interesting temples. It is one of the popular tourist destinations. The most famous places for visiting every type of travelers like nilkanthdham Swaminarayan temple, kuberbhandarishiva temple, Shruti mandir ashram, mahatma Gandhi nagargrush, and many more. The Statue of Unity is located at a distance of just 39 km. Don't forget to visit this place.
If you want to enjoy the beauty of the Poicha atmosphere then one of the best options for you to book Dharamshala online from here: "Click Here"
Sardar Sarover Dam – World 2nd largest dam.
     The distance Between the Sardar Sarovar Dam to the Statue Of Unity is 2.8 Km.
1. Distances to Statue of Unity from
a.  Ahmedabad – 252 Km.                                                      f. Dakor – 150 Km.
b.  Vadodara – 90 Km.                                                            g. Surat – 165 Km
c.  Rajpipla – 26 Km.                                                               h. Rajasthan – 762 Km
d.  Bharuch – 93 Km.                                                              i. Kutch-Bhuj – 526 Km
e.  Ankleshwar – 90 Km.                                                        j. Rajkot – 386 Km
2. Timing of Ticketing Of Statue of Unity
a. 8.30 Am to 5.30 Pm (Winter Season)
b. 8.30 am to 6.00 pm (Summer&Monsoon Season)
3. Necessary Information for Entry Ticket
a. Name&Address
b. Type of Vehicle and Registration Number
c. Contact Number
d For Educational Tour‐ Certificate on letter pad from Principal
e. Photocopy of photo identity proof.
Zarwani Water Park Vadodara Gujarat
Zarwani Waterfall is a natural destination in India. It is the best place for peace and calm with scenic beauty. Zarwani waterfalls are located 14.8 km away.
Sardar Sarovar Dam
Flower Valley
Laser Light & Sound Show (7:30 PM)
Zarwani Waterfall Vadodara
Adventure park, Dhirkhadi Vadodara ( 1.6 Km from Zarwani waterfall)
Ratanmahal Sloth Bear Wildlife Sanctuary
Panchmuli Lake
Ninai Waterfall
Sagai Malsamot Eco Campsite
OTHER TOURIST ATTRACTIONS IN GUJARAT
Rann of Kutch
Gir Wildlife Sanctuary
Laxmi Vilas Palace in Vadodra
Somnath temple in Junagarh
Kutch Museum
A  trip to Kankaria Lake
Marine National Park in Gulf of Kutch
Sabarmati Ashram in Ahmedabad
 Aina Mahal
Rani ki vav and many more places.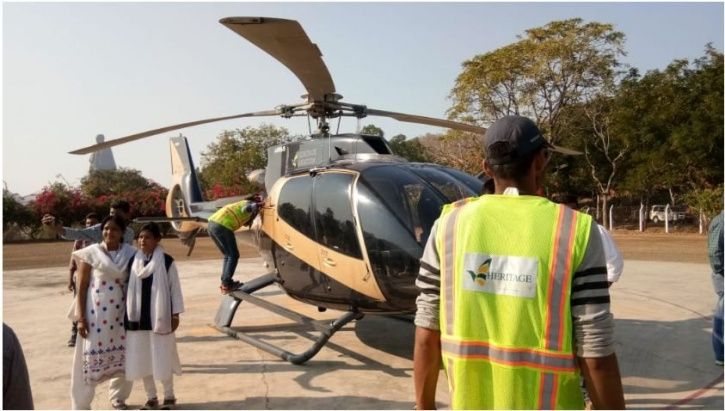 After buying tickets from the ferry service and reaching the Statue of Unity you can take a helicopter ride around the Statue of Unity.  The chopper can carry five to seven-person per ride
Cost of Helicopter at Statue of Unity: Rs.2900 per person
Nearest Airport To Statue of Unity
Vadodara airport is about 90 kilometers away from the site. From the airport, you can hire a cab or use the state transport to reach the Sardar Vallabhbhai Patel statue.
Nearest Railway station to Statue of Unity
Vadodara railway station is the nearest railhead to the Sardar Patel statue. You can get on public transport or book a cab. The Trains from Ahmedabad are also available.
Nearest Bus Station to Statue of Unity
Bus facilities are available from Central Bus Depot, Vadodara to The Kevadiya Colony.
Route from Mumbai to the Statue of Unity
Statue of Unity is about 420 Km from Mumbai.
Route from Delhi to the Statue of Unity
Statue of Unity is about 1059 Km from New Delhi.
Check Out The Link Given Below For online booking of  Statue of Unity – Which Is The Nearest Dharamshala available From Statue of Unity?
Dharamshala is the Best option for Yatri to take a rest safely. Good facilities are provided within the budget for Yatri. AC and Non-AC both the rooms are available. For online booking, you can visit the link  "Click Here"
Let's go on the trip:-  From Ahmedabad to Statue Of Unity (2D/1N)
Day 1 – Ahmedabad local
A

 

trip to Kankaria Lake
Sabarmati Ashram in Ahmedabad
Maniar's Wonderland Snow Park
Akshardham – Swaminarayan Temple
Yatri can book Dharamshala for taking rest with their family, groups, etc. The best rooms are available with good facilities. For online booking, you can visit the link "Click Here"
Day 2  – Morning 6 AM travel to Statue of Unity via Baroda (10 to 10:30 AM) and overnight stay at Baroda.
We can arrange a car from Ahmedabad or Baroda or even any other place in Gujarat.
For more information, you can contact us on +91 72848 72888 or mail us on "Click Here"
you can also visit other Dharamshala from our site "Click Here"
you can also visit other Tour Packages from our site "Click Here"
[contact-form-7 id="4716″ title="Contact form 1_copy"]