The importance of Rudrabhishek Puja is quite easy to understand. Know that Lord Shiva has several names and incarnations. Each represents a distinct aspect of his personality.
Lord Shiva takes the terrifying form of Rudra to stop cruelty and injustice across the world. Hence, by performing Abhishekam, you can worship Lord Rudra. Which is also known as Rudrabhishek Puja.
What Is Rudrabhishek Puja?
Rudrabhishek is a chant that emerged from Aakasha (space). When ancient sages and Rishis sat in meditation, they heard it. And what they heard began to transfer to others.
Rudrabhishek has the function of creating positive energy and removing negative vibrations. And much has been said about Rudrabhishek. Nature flourishes when Rudrabishek occurs; nature becomes joyous and happy.
In the Rudrabhishek puja, an experienced Pandit Ji will chant 108 names of Lord Shiva. Devotees perform this important Pooja in almost every Shiva Temple. Furthermore, it is more significant to perform this ritual at any of the 12 Jyotirlingas.
How To Perform Rudrabhishek Puja?
By chanting the Mantras or hymns, devotees invoke Lord Rudra with Rudrabhishek Puja. During Rudrabhishek Puja, one needs to fill the sacred Kalashas with water.
The manifestations of Varuna, as well as holy rivers like the Ganga, Yamuna, Godavari, Saraswati, Narmada, Sindhu, and Kaveri, are summoned into the water.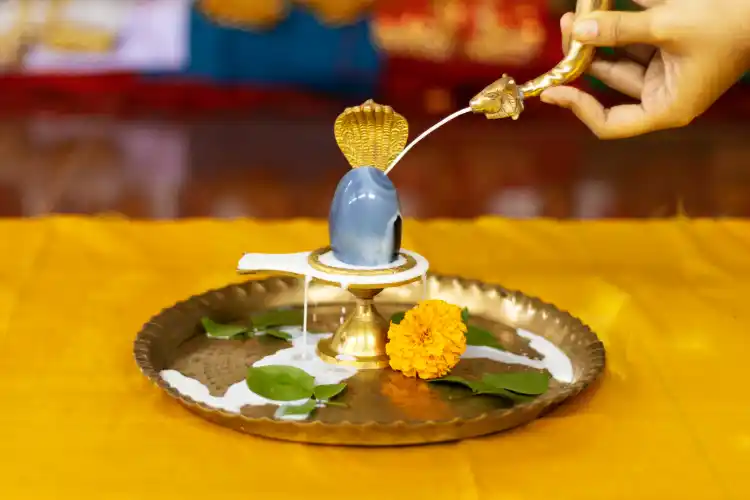 The Lord is then worshipped by chanting hymns, particularly the Rudra Chamakh. It is the most important component of this Pooja. The Pandit ji will chant the Rudra Chamakh continuously during the puja.
Lord Shiva is also known as Bhola Nath because he is readily satisfied by his followers' prayers.
Rudrabhishek Puja worships Lord Shiva in its Rudra form. It is one of the most powerful Pujas for removing all ills and fulfilling all aspirations. Rudrabhishek also ensures overall prosperity.
When To Do Rudrabhishek Puja?
Rudrabhishekam is usually conducted to cleanse one's sins. It also gives serenity, prosperity, and happiness, as well as familial unity.
Any day is good to perform Rudrabhishek. However, you can decide the day based on the nakshatra and tithi of that particular day.
Rudrabhishekam is auspicious to perform throughout the months of Shrawan and Kartik. Moreover, you can also perform this ritual on important occasions like Maha Shivratri and Mondays.
Furthermore, it can be conducted both at temples and at home with a priest. The Shiva Lingam must face north when doing this Pooja. The devotee turns to face the east.
Have a look at our video describing the Power & Importance Of Rudrabhishek Puja:
Ingredients For Rudrabhishek Puja
Rudrabhishek Puja praises the lord Shiva. As a result, the lord removes all evil and honors the devotee with the greatest gifts.
During the Rudrabhishek Puja, the following ingredients are a must to have:
Milk
Ganga Jal
Honey
Curd
Sugarcane Juice
Sandalwood Paste
Belpatra
Flowers
Black Til
Various Types Of Grains
It is the well-known and revered Vedic ritual for appeasing Lord Shiva in his Rudra avatar. It is regarded as one of Hinduism's greatest, cleanest, and most fascinating ceremonies.
Did you know that Rudrabhishek Puja is also the most important spiritual puja in all of the Vedic literature?
Benefits Of Rudrabhishek Puja
Rudrabhishek puja helps in achieving all of your goals in life. It benefits all-around material success. Moreover, this ritual shields against negativity, foes, and evil.
One can achieve excellent health, money, and a happy existence. Lord Shiva devotees who do Rudrabhishek Puja once a year reap these blessings:
This puja generates positive energy and paves the road to success.
Rudrabhishek provides one's life with calm, pleasure, and success.
It cleanses the soul by removing bad karma and the negative impacts of numerous doshas.
This ritual aids in the reduction of sins.
It aids in the treatment of the condition.
Bachelors can find a suitable life partner.
Bless someone who has a healthy mind and a cheerful attitude.
Prevents untimely incidences and accidents and bestows good bodily and mental health.
Remove the negative effects of the Punarvasu, Ashlesha, and Pushya Nakshatras.
Online Booking Of Rudrabhishek Puja
YatraDham.Org has been providing online booking of Rudrabhishek Puja. Devotees prefer to perform this puja at major Shiva temples like: