Char Dham Yatra 2023 is starting very soon. The most popular pilgrimage in India comes with loads of options and confusion. This blog is here to help you. We have included the best char dham yatra travel tips and char dham yatra do's and don'ts. You will also find char dham yatra accommodation suggestions.
Char Dham Yatra Preparation & Travel Tips
When planning a trip to Chardham Yatra, you should think about the items you'll need to pack. Additionally, make a list of the necessities you might need while traveling.
If you pack your bags without compiling a list of necessities, you risk leaving out a lot of crucial items. So it's important to compile a list of everything you'll need for a comfortable trip.
The four pilgrims, Gangotri, Yamunotri, Kedarnath, and Badrinath, are the focus of Chardham. Located in the beautiful vistas of snow-covered Uttarakhand's mountains and thick forests.
The path from one location to another involves a lot of stamina-intensive trekking. It's also advised to carry an emergency kit with basic supplies like food, water, first aid kits, and so forth.
Things To Carry With During Your Char Dham Yatra 2023
Clothes
It would be wise to consider your clothing needs while choosing what to pack. Bring adequate clothing for the duration of your trip. Please include an extra layer in case the weather changes. Depending on the season, you might also want to include a few pairs of trousers or shorts.
Bring a raincoat or umbrella as well as sturdy walking shoes. A first aid pack, sunscreen, bug repellant, and a torch are extra useful tools. Given the duration of the yatra and the fact that it becomes cool at night. So you might want to pack a lightweight jacket or shawl.
Camera
Many locations forbid the use of cameras for photography and filmmaking. So, knowing where to use the camera would be helpful.
You should refrain from using a camera at that time as we travel to the temples for dev darshan. Yet, snapping photographs of the beautiful scenery will aid in creating a nice memory gallery.
First Aid Kits
Every trip you take, including the Chardham yatra, should include a first aid pack. If you become ill while traveling, painkillers, glucose tablets, and ORS can be helpful.
Keep a couple of snacks on hand as well. Stock up on supplies because you might not always be able to get what you need at a restaurant. The best is a compact bag.
Dry Fruits & Snacks
Snacks come in handy while traveling. They give you vigor and renewal. Snacks are also necessary for lengthy trips. They assist you in maintaining focus and awareness while traveling.
Furthermore essential to your travel gear are dry fruits. If you intend to go hiking, you will need them.
The greatest things to bring on a trip are snacks and dry fruits. These things are portable and light in weight. Dry fruits and snacks are very simple to eat.
Cash
There aren't many ATMs or places you can use a credit card on your Chardham yatra. Hence, it would be helpful if you have the necessary liquid cash on hand.
To prevent cash emergencies, estimate your tentative expenses and set aside the money accordingly.
Water Bottle
During the Yatra, there are many ways to stay hydrated. Every stop along the way has bottled water available for consumption. Many locations also have regular water. Thus, if you packed a water bottle, you could easily fill it up.
A Local Phone
You can leave the smartphone at home and can bring along an inexpensive phone with a local SIM. Many travelers prefer to carry a local phone rather than a smartphone.
There won't be any Wi-Fi or internet access while you're on your Chardham Yatra. You should prepare the basic phone with the necessary contact information.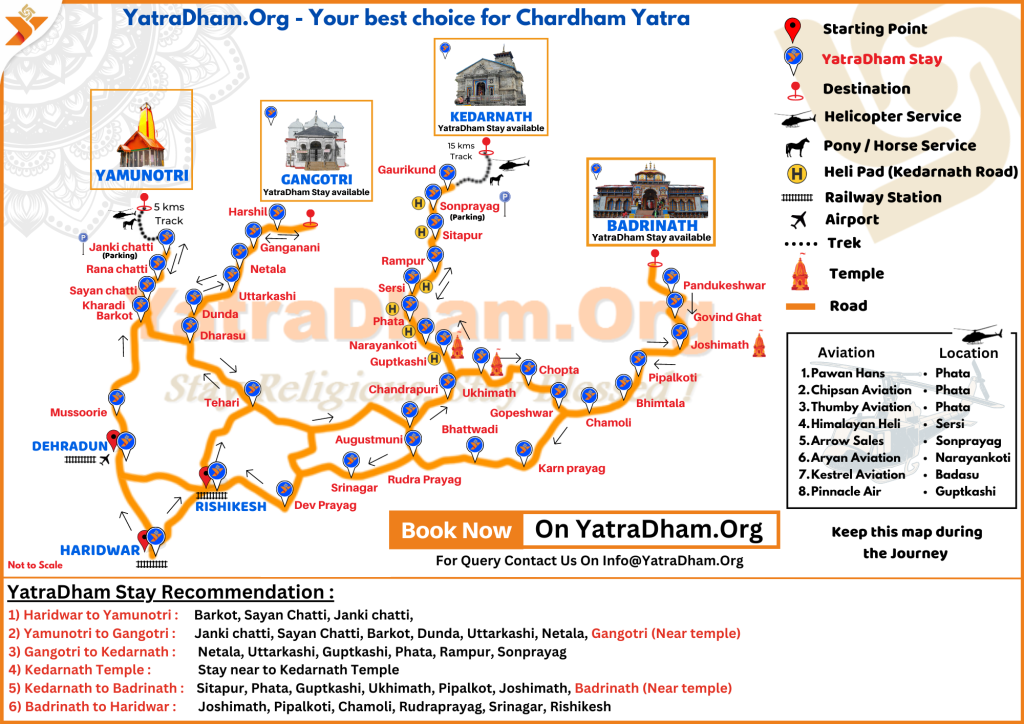 Dos And Don'ts For Char Dham Yatra
Dos:
Carry enough warm, heavy wool clothing. Such as sweaters, thermal wear, trousers, hats, and mufflers for combating the cold. Windbreakers, raincoats, sleeping bags, blankets, water-resistant shoes with enough grips, tiny water-resistant tents, torches with enough batteries, and trekking sticks are extra necessities. Women should avoid wearing sarees. It is advisable to wear body-hugging apparel instead. Such as trousers, salwar kamis, etc.
Bring snacks that suit your tastes. Such as biscuits, sugar, candies, chocolates, milk powder, dry fruits, and tinned goods. You can also carry a water bottle, spoons, tumblers, saucers, and plates. Don't discard candy wrappers or other trash on the ground while traveling. Instead, use a trash can if one is available. If not, keep it in your pocket and throw it away when you locate it.
You may only hire registered pony wallas, porters, and dandy men. They usually have fixed prices and won't negotiate.
Ponies that carry food and luggage should always be with you. You should keep in touch with them at all times. To prevent inconvenience, do this.
This is a difficult trek, move gently and steadily while maintaining your composure.
Bring enough cash with you to cover your costs.
It is always advisable to have a first aid kit and personal medical equipment with you.
Don'ts:
Alcohol consumption is not allowed.
Don't overstrain on steep gradients.
When warning signs are fixed, don't sit back and relax.
Don't disregard the traffic laws.
When traveling, avoid wearing heavy jewelry.
Avoid attempting to wash your hands, and clothes, or take a bath in nearby rivers.
Char Dham Yatra Hotels And Accommodation
Did you know that YatraDham.Org offers the most lodging choices for the Char Dham Yatra in 2023? There are many Ashrams and Dharamshalas on the Char Dham route on our website. These accommodations provide great facilities and spacious rooms.
Although the majority of them only have the most basic amenities. We also have a large number of privately owned hotels. YatraDham.Org also offers a few hotels that provide luxurious stays and top-notch service.
IMPORTANT NOTE:
Char Dhams locations notice a huge amount of travelers during the peak period of the year. Yatris should reserve their accommodations in advance to enjoy a hassle-free Yatra. In September and October, hotels are comparatively empty, and you can also get great savings.
Here is the list of Char Dham Accommodations at YatraDham.Org:
Why Choose YatraDham.Org For Char Dham Yatra Hotel Booking?
Maximum choices of Char Dham hotels and dharamshala in India.
Budget-friendly rates on Char Dham Hotels & Accommodations.
GMVN Guest House and Bungalows (Uttarakhand Govt Tourism) on Char Dham Route.
5 Lac+ Registered Customers.
Luxury Hotels and Resorts offers on Char Dham Route.