"The Island City"-Rameshwaram
Rameshwaram is the district comes under the state of Tamil Nadu.The holiest pilgrim centers in India. It is on Pamban Island. Rameshwaram is located in the sea region of "Gulf of Mannar Biosphere Reserves". It is 40 kilometers away from Mannar Island, Sri Lanka. It is one of the Char Dhams of India for Hindu devotees.
Temple opening and closing times are updated click here to know more.

The 16 Most Elegant Places To Visit In Rameshwaram 
Sri Ramanathaswamy Temple
Kothandaramaswamy Temple
The Five Faced Hanuman Temple
Lakshmana Tirtham
Villoondi Tirtham
Agni Theertham
Ariyaman Beach
Dhanuskodi Beach
Adam's Bridge
Water Bird Sanctuary
Annai Indira Gandhi Road Bridge
Kalam National Memorial
Sea World Aquarium
Kunthu Kal Beach
Nambu Nayagiamman Temple
Jada Tirtham 
 "Most Famous colorful sea-shores"-Kanyakumari
Kanyakumari is a coastal town in the state of Tamil Nadu. It is the southern Indian trip of India. Kanyakumari is one of the most serene places in India. The Kanyakumari Temple is dedicated to the goddess Devi Kumari Amman. The Devi Kumari Amman i.e the virgin god in the form of Devi. The temple is of great religious importance and thousands of people visit. The Kanyakumari is very much famous for its colorful beaches. It is one of the best places to visit for our Spiritual family.
Best Places to visit in Kanyakumari
Vivekananda Rock Memorial
Padmanabhapuram Palace
Sunset View Point
Thanumalayan temple – Sthanumalayan Kovil
Bhagavathy Amman Temple
Thiruvalluvar Statue
Ayya Vaikundar Nizhal Thangal
Nagaraja Temple
Olakaruvi waterfalls
Vattaparai Waterfalls
Sothavilai Beach
Sanguthurai Beach and many more  
Best Route Travel from Rameshwaram to Kanyakumari
The total distance between Rameshwaram and Kanyakumari is 325 Km. It takes 6 hours to reach by car.
Come out from a busy schedule and Let's go on the trip – 3 days / 2 night.

Rameshwaram to Kanyakumari by Car:
Day – 1 Rameswaram  
 

Arulmigu Ramanatha Swami Temple, Rameswaram  ( Approx 7 Am Morning)
Arulmigu Ramanathaswamy Temple is a famous Hindu temple. It is dedicated to Lord Shiva. It is located on Pamban Island. This is the longest one in Asia and the third-largest in the world. It is world-famous. It measures about 670 feet East-West and 415 feet North-South with a height of about 30 ft.
The total length of the outer and inner corridors is about 3850 feet!
The total number of pillars in the outer praharam is 1212
The high compound wall of the temple measures 865 feet East to West and 657 feet North to South
The temple is adorned with towering 177 feet of Gopurams in the East and West.
Timing for all days  – 5:00 AM – 12:00 PM
                                         6:00 PM – 8:45 PM
Special worship services are carried out every Friday.
Pooja Timing:
Palliarai Deepa Aradhana
5.00 AM
Spadigalinga Deepa Aradhana
5.10 AM
Thiruvanathal Deepa Aradhana
5.45 AM
Vila Pooja
7.00 AM
Kalasanthi Pooja
10.00 AM
Ichikawa Pooja
12.00Noon
Sayaratcha Pooja
6.00 PM
Arthajama Pooja
8.30 PM
Palliarai Pooja
8.45 PM
Agni theertham  ( Approx 2 Pm Afternoon)
People who come to Rameshwaram visit this place to take a holy bath in the waters by the beach. It is believed that taking a bath in this sea will vanish one's sins, and make them pure again. The place is located very close to the Ramanathaswamy temple. It is believed that Agnitheertham is the spot where Lord Rama offered his prayers to Lord Shiva, after killing Ravana.
Timing for all days  – 5:00 AM – 6:00 PM
The greatest epic of lord Ramayana is the origin of Sri Panchamukhi Hanuman. It has five-faced. There is an interesting story behind the origin of the five-faced Maruti Nandana. Panchmukhi is also the name of the place where the god first came into being. It is located on the bank of the river Tungabhadra.
Temple Timings – Morning: 6:00 am to 1:00 pm
                                 Evening: 3:00 pm to 8:00 pm. 
On Saturdays, the temple is open from 6:00 am to 8:00 pm. 
Lakshmana Theertham is a beautiful holy tank. This temple is located on the highway connecting Dhanushkodi and Kochi. It is located On the Rameswaram – Pamban Road. According to history Lord Lakshman, the brother of Lord Ram installed a Shiva linga. He worshiped Lord Shiva for forgiving his sins and took bath in this theertha. The average time spent there is 30 minutes.
Lakshmana Teertham Timing – 24 hrs
Dhanushkodi is a small and popular beach. It is the most attractive place for tourist. Dhanushkodi is a place where Lord Ram, Lord Laxman and Lord hanuman with vanar sena (monkey group) built the bridge to Lanka. They were going to rescue Goddess Sita from Ravana. This bridge is known as Ram Setu. After doing war Lord Ram wins. The Ravana brother Vibhishana later asked the Lord to destroy the Ram Setu. After all, sena has reached safely to dhanushkodi Lord Ram has destroyed the bridge with his one bow.
Jada Theertham ( Approx 7 Pm evening)
Jada Theertham is the greatest holy temple with an atmospheric place. It is believed that Rama washed off his hair (Jada) in this theertham after killing Ravana. So as to purify himself to worship lord Ramalinga. Lord Ramalinga was the saints of Tamil.
Temple timings – 6 Am to 11 Am 
                                 4 Pm to 8 Pm.
you can book hotels, in Dharamshala for one night say in Rameshwaram. You can book Dharamshala from this link https://yatradham.org/yatradham-destinations/tamilnadu/rameshwaram.html
Day-2  Rameshwaram to Kanyakumari
Dr. APJ Abdul Kalam National Memorial (Early morning)
It is Spread over 2.11 acres of land. It is a place where every Indian must visit Full of Inspiration and Excitement. The extraordinary life of APJ Abdul Kalam from this small city to Rashtrapati Bhawan. It has been really documented in this museum. Visit this place to take extraordinary knowledge.
Abdul Kalam Memorial Timing: 10:00 Am to 5:00 Pm 
 Villoondi theertham Beach
It is one of the beautiful beaches with 64 there has. Villoondi means a 'buried bow.' Lord Rama buried a bow of Goddess Sita. The sea is surrounded by sweet water. It is one of the unexplored spots by tourists.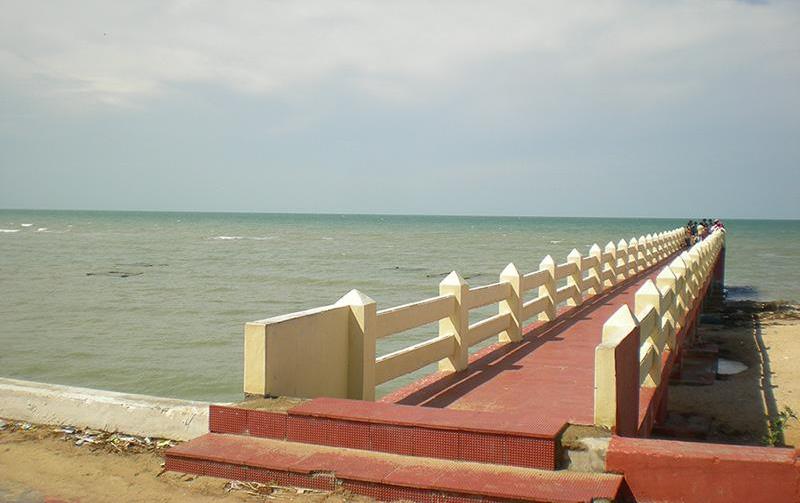 Kunthu Kal beach is located just behind the Vivekananda memorial. It is about 20 mins drive from Rameswaram. A nice and calm beach to spend time with one's family. It is a completely relaxing and peaceful place.
With visit Pamban Bridge Travel to Kanyakumari (Approx 3 PM to 9 PM)
The Pamban Bridge Rameswaram is one of the oldest and most famous Bridges in India. It is a massive structure over the Indian Ocean. It refers to the road bridge and railway bridge.
you can book hotels, in Dharamshala for one night say in Kanyakumari. You can book Dharamshala from this link https://yatradham.org/yatradham-destinations/tamilnadu/kanyakumari.html
Day 3 – Kanyakumari
Vivekananda Memorial By Boat (Approx 8 AM) 
Vivekananda Rock Memorial is a place of great scenic beauty, historical importance, and religious significance. It is located 500 m away from the mainland. The Vivekananda Rock Memorial was built in memory of India. Swami Vivekananda was one of the greatest saints and leaders. It is the place where he has meditated.
Opening timings of Vivekananda Rock Memorial are 8 Am to 4 Pm.
Entry Ticket details:-
The entry fee for Vivekananda Memorial rock is Rs10 per person. The charge for a ferry is Rs 20 per person. They have provided some facilities for the convenience of tourists. It includes a permanent passenger queue shed, toilet facilities, etc. A normal ferry service Ticket is 35Rs per person and a VIP Ticket is 170Rs per person.

There is a beautiful statue in the middle of the Island and water is covered around. The statue was made dedicated to being a philosopher and poet Thiruvalluvar. This monument stands tall at a mighty height of 133 feet. It is perched upon a 38-foot pedestal. The height of the pedestal represents the 38 chapters of virtue in Thirukkural. At a distance, the statue is situated 400 meters from the city's coastline. The average time to spend is 1-2 hours.
Timing for all days  8:00 AM – 4:00 PM
Entry Ticket details:- 
There is no entry ticket.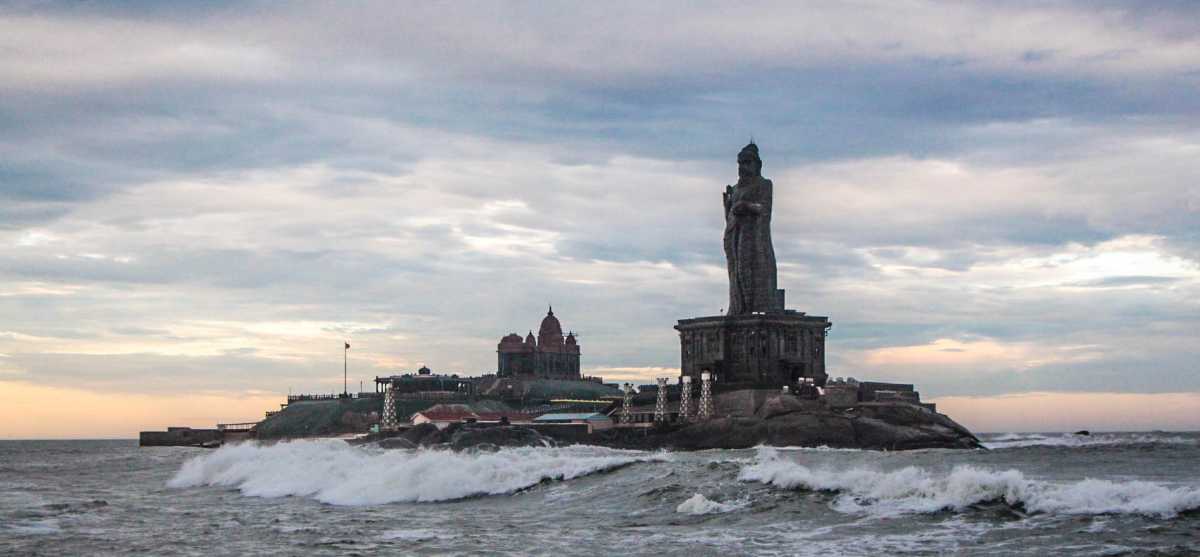 Arulmigu Bhagavathy Amman 

Temple
Devi Kanya Kumari is the goddess Shree Bhagavathy. It is situated on the seashore overlooking the sea. Kumari Amman Temple is one of the 51 Shaktipeethams. Festival like Chitra Poornima, Navariti, Vaisakha, and Kahabham temple festival is celebrated with great vibration.
Timing of Temple for all Days:  6:00 AM to 12:30 PM
                                                                4:00 PM to 8:30 PM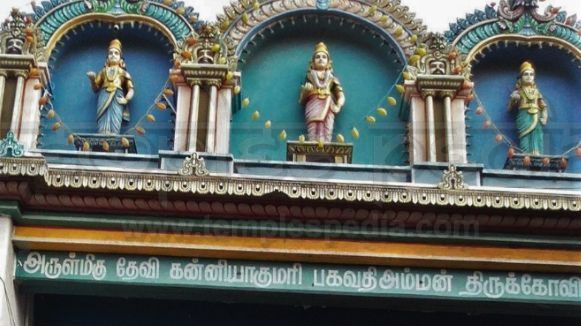 Sthanumalaya Perumal Temple is situated at Suchindram in the Kanyakumari area. This temple is devoted to Trimurthis – Brahma, Vishnu, and Shiva. People visit this temple for marriage, children, longevity, and prosperity needs. They seek blessings from Lord Hanuman in the temple for physical and mental health.
Timing of Temple for all Days: 6:00 Am to 8 Pm
Sanguthurai Beach is a pretty tranquil place with white sand beaches. It sets a perfect background to the coastline of southern India. This beach is very calm and peaceful. It is one of the most beautiful and cleanest beaches ever you seen.  The waves are easygoing and relaxing. There is an interesting white pillar located along the coast. It is said that it belongs to the times of King Chola. He was the greatest king of South India.
Sunset point  (Approx 6 PM)
Sunset is one of the wonderful places for watching shores of birds. You can enjoy sunset point with magnificent views. people take different photography. It is a fantastic place and the best time to visit this place in the evening. Sunpoint is the place that adds the beauty of nature. Every visitor should visit this place to see the beauty of sceneries.
Rameshwaram to Kanyakumari by train
The total distance covered by the train, i.e.., the distance between Rameswaram and Kanyakumari is 254 miles or 407 kilometers. It takes 7 hours and 30 minutes approximately. The Kanyakumari rail station is about 3 km away from the city center. One can take an auto-rickshaw or a cab to travel to the city center.
How to Reach Rameshwaram
By Air – The nearest airport to Rameshwaram is Madurai Airport, which is around 241 km from the city.  Buses, cabs, and rented taxis are available.
By Train – The Rameswaram railway station is the major railhead. You can easily get regular trains from Chennai, Madurai, Coimbatore, Trichy, Thanjavur, Palakkad, and Bengaluru. Taxi services are available from the station.
By Road- Rameshwaram is connected to various roads. you can easily get buses from major cities. You can get a car through a different route.
For more information about the car booking, you can contact us at +91 72848 72888 or mail us at [email protected]
you can also visit other Dharamshala from our site https://yatradham.org/
you can also visit other Tour Packages from our site https://pavitratour.com/
[contact-form-7 id="4716″ title="Contact form 1_copy"]